Em um clima artístico que muitas vezes olha para trás e não para o futuro, onde as retrospectivas são mais prevalentes do que assumir riscos, é importante honrar a arquitetura de Frank O. Gehry.
Esse é o início da mensagem proferida pelo júri que, em 1989, laureou Frank Gehry com o prêmio Pritzker, uma espécie de Oscar da arquitetura. Frank Owen Goldberg (nome original Ephraim Owen Goldberg) , ou simplesmente, Frank Gehry, nasceu em Toronto, no Canadá, no dia 28 de fevereiro de 1929.
Durante sua infância, Gehry recebeu grande influência de sua avó, que o incentivava a construir cidades e casas a partir de sobras de material da loja de hardware do seu avô. Aos 18 anos mudou-se com sua família para os Estados Unidos, onde graduou-se em Arquitetura pela University of Southern California.
Todavia, engana-se quem pensa que ele iniciou sua carreira na arquitetura logo assim que concluiu a faculdade. Gehry trabalhou em atividades diferentes da arquitetura, incluindo o serviço militar. Aos 28 anos teve a oportunidade de fazer seu primeiro projeto, The David Cabin, em parceria com um colega de faculdade.
Em 1962 Gehry abriu seu próprio negócio, a Frank O. Gehry & Associates. Entretanto, seu ponto de virada foi no início da década de 70, quando passou a produzir mobiliário de design feito de papelão ondulado, os chamados "Easy Edges". Já no início da década de 80, Gehry decidiu parar com a venda do mobiliário para se dedicar integralmente a Arquitetura. Seu escritório, até hoje localizado em Los Angeles, produziu uma série de residências na cidade, inclusive a sua. Nesta fase, o arquiteto já mostrava a desconstrução e fragmentação da forma, característica pela qual é amplamente reconhecido.
Segundo o arquiteto, ele busca "transmitir emoção em suas obras, intrigar o espectador e oferecer um contexto bonito para o drama da vida". Gehry atualmente é uma das referências, assim como Zaha Hadid, na arquitetura que estimula a curiosidade no espectador. Essa linha pós-moderna, chamada Desconstrutivismo, busca quebrar as regras da "forma segue a função" através de projetos que instigam o nosso olhar com assimetria, descontinuidade e desafio a engenharia, nos permitindo sair do "lugar comum".
Dentre as inúmeras obras reconhecidas internacionalmente, listamos aqui algumas delas:
O Museu de Bilbao conferiu a Gehry uma popularidade ímpar, permitindo inclusive que fizesse uma participação em Os Simpsons (S16E14). No episódio, Lisa, insatisfeita com a falta de espaços públicos de qualidade em Springfield, pede ao arquiteto, através de uma carta, para projetar um centro cultural. O arquiteto lê a carta e a amassa. Com o papel sob o chão, ele visualiza o projeto.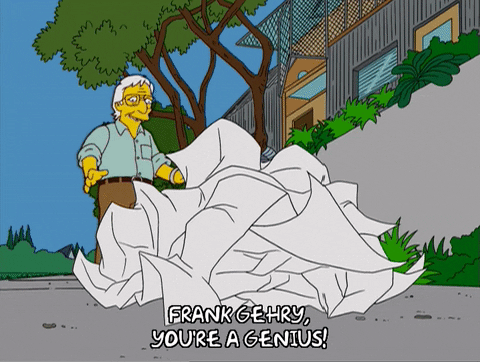 Atualmente, o site Master Class disponibiliza um curso online ministrado por Frank Gehry, nele, o arquiteto ensina como é o seu processo criativo na arquitetura, através de croquis, modelos e estudos de caso. Aqui embaixo estamos compartilhando o vídeo de introdução do curso.
Ainda, se você sonha em algum dia trabalhar em um escritório de um arquiteto reconhecido internacionalmente, atualmente Gehry Partners, LPP está oferecendo algumas vagas. Aproveita e dá uma conferida nos requisitos! Quem sabe você é o próximo contratado!
Para finalizar o post de hoje estamos compartilhando o documentário Sketches of Frank Gehry, filmado em 2006, que mostra o processo criativo do arquiteto, desde os seus croquis, o desenvolvimento de maquetes e modelos 3D até a construção.
Esperamos que você tenha gostado do nosso post de hoje! Tem alguma personalidade que você gostaria de ver aqui nessa seção? Deixe aqui um comentário para nós com sua sugestão!
Até a próxima!
Referências: